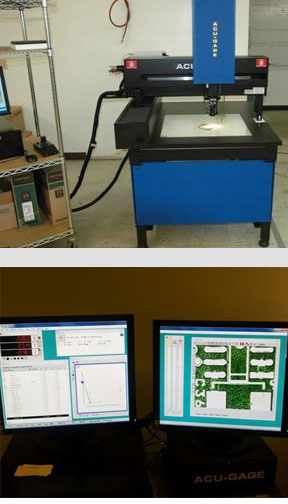 Acu-Gage Systems has announced that Enigma Interconnect has installed an automated 24" x 24" Acu-Gage System at its corporate manufacturing operation in Burnaby, BC. The Acu-Gage is configured with automated edge detection, full 3-Axis motion control, programmable illumination, AutoFocus, programmable zoom, and Windows based programming software. Enigma's Acu-Gage will provide improved capability and throughput in providing first article inspection and process control data for a variety of industry applications.
John Parsons, engineering manager for Enigma Interconnect says, "The addition of the Acu-Gage automated CMM is a necessity that allows Enigma to provide our more demanding customers with the level of FAI reporting they require. The Acu-Gage allows us to take measurements and validate them against applicable tolerances much quicker than could be accomplished by hand. In some cases, these measurements are impossible for us to make using conventional hand measuring tools. We expect the Acu-Gage to be invaluable as a process set-up and monitoring tool."
Jack Kane, Acu-Gage Systems president, said, "We are very excited and pleased to announce the addition of the Acu-Gage System to the Enigma quality program. Enigma is clearly a leader in the Canadian circuit board market, and we are honored to be partnering with them to foster their continued success. In fact, we share some common clients in the aerospace industry, and I am certain that the Acu-Gage System will be very productive asset for the Enigma team for many years to come."
About Enigma Interconnect
Enigma Interconnect is one of the premier Canadian PCB manufacturers. Founded in 1973, Enigma Interconnect is a market leader in low- to medium-volume, high-mix PCB manufacturing with exceptional quick-turn services.
Enigma's diverse customer base covers various high-end manufacturing segments including aerospace, alternative energy, automotive, communications and wireless RF, government and military, medical, and instrumentation. With a production capacity of 500 panels/day and a 35,000 square foot manufacturing facility, the company is a leading circuit board producer in the Pacific Northwest region. Enigma provides climate-controlled areas for all dry film and solder mask operations.
For more information on Enigma, visit www.enigmacorp.com.