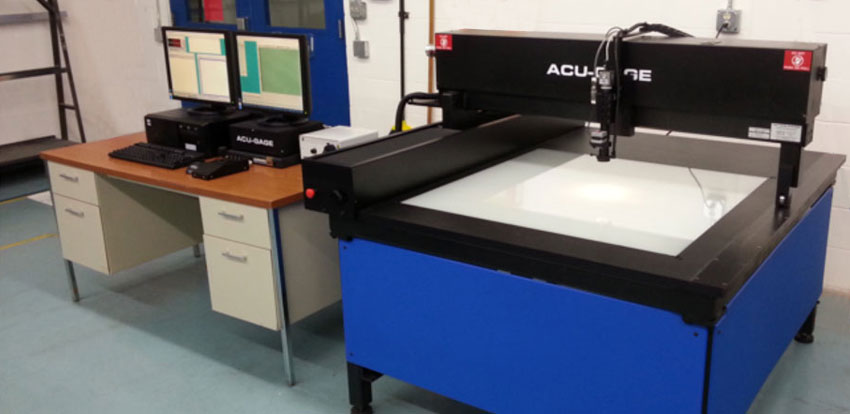 Acu-Gage Systems has announced that Daktronics Inc. (DAKT) has installed a fully automated 36" x 36" Acu-Gage System at its corporate manufacturing operation in Brookings, SD. The Acu-Gage is configured with automated edge detection, full 2-Axis motion control, programmable illumination, and Windows based programming software. Daktronics' Acu-Gage will supplement a 3-Axis touch probe CMM (coordinate measuring machine) in the quality lab, and provide improved capability and throughput in the measurement of circuit boards, LED assemblies, and flat sheet metal components.
"The addition of the Acu-Gage in the QA lab has provided a significant improvement in measurement time, capability, and programming ease for two-dimensional component measurements," said Joseph Wiley, Daktronics QA Lab Lead. "Recently, it has been used for thru-hole alignment verification on circuit boards, first article measurements for DVN mod sheets, and verifying manufacturing equipment test parts."
Jack Kane, Acu-Gage Systems President, said, "We are very excited and pleased to announce the addition of the Acu-Gage System to the Daktronics quality program. Daktronics is clearly the leader in computer programmable displays, and we are honored to be partnering with them to help their continued success. Acu-Gage's design made it the ideal solution for the large format requirements of Daktronics. Acu-Gage affords increased throughput and accuracy over their previous two-dimensional measuring machine, and I am certain that the Acu-Gage System will be very productive asset for the Daktronics quality program for many years to come."
About Daktronics
Daktronics has strong leadership positions in, and is the world's largest supplier of, computer-programmable displays, large screen video displays, digital billboards, electronic scoreboards and control systems. The company excels in the control of large display systems, including those that require integration of multiple complex displays showing real-time information, graphics, animation and video. Daktronics designs, manufactures, markets and services display systems for customers around the world, in sport, business and transportation applications.
For more information, click here visit the Daktronics Website.